880 (Dec 2019)
---
Personal Space (2018)
---
---
cubeLife (1998-2011-now)
(first exhibited 1999, last exhibited at DMU Cube gallery, Phoenix Square, Leicester UK, 2011)
cubeLife is part of an ongoing project (documented at cubelife.org) with several facets, originally initiated in collaboration with Greg Turner at the Creativity & Cognition Research Studios (as a visiting artist/researcher Loughborough University HCI department) and the former Gallery of the Future, supported by Arts Council England Year of the Artist funding involving other C&CRS artists working with technology.
When exhibited (as above), cubeLife exists only in response to audience input via a heartbeat monitor. Initially, the screen is blank. Each participant creates a new magic cube entity and associated sound in virtual 3D space via a heartbeat monitor clip on their finger, or through a pair of wireless hand grips. This entity is given a finite life and travels about the space leaving tracks and combining its sound with all the others to build a non-repeating audio presence. After a while each object dies, leaving only its tracks. During a session, the audio and image represents the collective heartbeats of each participating viewer.
Taking the lead offered by pioneering artists who worked with computer technology that programming languages offer a powerful future for digital art (now evidenced by the advent of initiatives like Processing and similar programming environments), cubeLife is a custom-made application. The screen shots show only part of the huge possible range of images generated by the work. The audio is based on (among other things) digitally treated variations of a struck clay bowl filled with water. The heartbeat monitor and earthy origins of the clay bowl bridge the huge chasm between our four-million year old biological existence and the rapidly developing digital world. CubeLife originally involved collaboration with interaction designer Greg Turner and sound engineer Kate Rounding (AKA Zola Day).
---
The Emergency Artlab (2000-2002)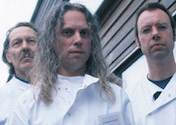 With Mike Quantrill and (on one occasion) Matt Rogalsky and Pip Greasley, the Emergency Art Lab was formed to deliver rapidly-created performance and interactive pieces involving participants at specific events and locations outside gallery spaces. The ethos is one of art-technology work created on the spot in response to the event, and (wearing lab coats) with a tongue-in-cheek element concerning the status of art-technology. The live works took place at various venues (Leicester and Cambridge in the U.K., Tilburg in the Netherlands) with some code created during the event as participation suggested.
---
I continually produce experimental code sketches to test an idea or try something in a graphic programming environment and cover a range of technologies from the humble animated GIF, though CSS, to Processing and NodeBox. Some need Java, others must be downloaded and run on your machine, five build on pre-existing or tutorial code, the rest are original.
---
---
There is more material (sometimes opening a new window) scattered throughout the site - if you find it, great, but - like the automatic drawing - it's not my main focus. For many years I maintained a special interest in art and disability, see biography for a personal view.
Artist's statement
I'm currently a free-floating senior research fellow at the IoCT and also involved with the IESD (as a spin-off company EcoVisum), De Montfort University, Leicester. Apart from a number of projects there, I'm maintaining an ideas sketchbook and drawing up proposals for new projects - you can download my current artist statement and a condensed visual portfolio:
I have an ongoing interest in the ideas that shape culture, particularly those that change our perspective of the natural world and ourselves.
Presentations
cubeLife and magic matrices
If you'd like to know more about the history and context of art-technology, see (among many other books) Media Art Histories
and White Heat Cold Logic
. A detailed outline of MediaArt Histories is available.